Marina's Jakarta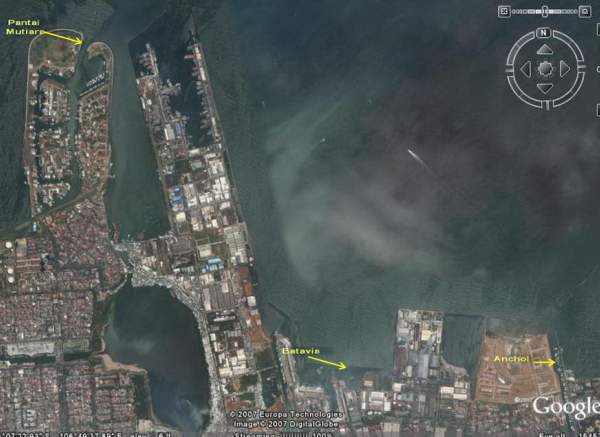 Pantai  Mutiara:  This is currently the base of JOSC
Phone Pantai Mutiara Marina: Yudhi Sanjaya & Dina Kosim : 62-21-662.7878  fax: 62-21-6602055  email: marina_pm@mailcity.com address Jl Ray Pantai Mutiara  Pluit, Jakarta 14450  the finance department uses the following address marina_pm06@telkom.net

Phone Cafeteria Pantai Mutiara (Can call your boat boy via public call) 62-21-6691265 or 62-21- 66601118

Phone Navy Commander Pantai Mutiara:   62-818-929.700

Harbor master: Pak Jonang Sudjiat

Coordinates entrance harbor: 6° S 5 min 619/1000 and 106° E 47min  717/1000 (WGS 84). Max  depth 1.5 meters at low tide.

It is strongly advised to all boat skippers  to enter Pantai Mutiara by navigating in the middle of the channel. By high tides some obstructions located on the left and right sides of the channel are not visible and represent a serious danger for the boats. Navigating at no more the 5 knots is not only a courtesy to the other boats but could significantly reduce the damage to your boat should you accidentally hit something.

Boats should not overpass or cross each other in the entrance channel so that each boats can stay in the middle of the channel.
Located just next to the welknown Sunda Kelapa Harbor. The exact address is Jl Baruna Raya #9, Jakarta 14430.

Coordinated entrance: South 06.07.140 and East 106.48.974 (WGS 84)

Radio watch channel 69

Berth Master Mr Putu Suryadi  can be contacted at putu@batavia-marina.com +6281806394938 he is fluent in English

Depth is in general more then 3 meters however the area before the entrance has parts with 2 meters depth. The pontoon are floating which means that unless other marinas you keep your feet dry when walking to the boat.

The marina recently installed a much needed dry dock that can accommodate boats of 15 meters length, 3.8m width and weight of 15 tons.
This marina located inside the amusement park of Ancol is mainly used for commercial boats leaving towards the Thousand islands. Mooring is possible for passing vessels but  we are not aware of all the details. Unfortunately the water is often very dirty in this marina.